An introduction to the world of textiles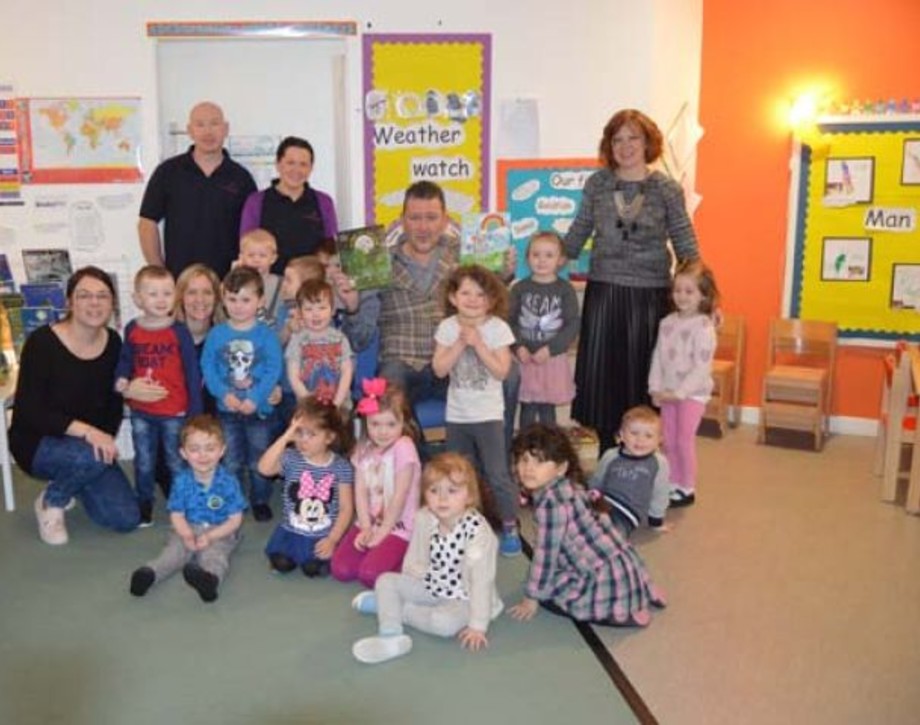 Pre-school children at the College's Children's Centre have been introduced to Scotland's world-famous fashion and textile industry, at an innovative event that gave them them the opportunity to try their hand at weaving.
Around twenty children, aged between 4 and 8, from The Children's Centre at Cardonald Campus enjoyed a storytelling session by the author of the educational book Weaver of a Life in Colour, before getting the chance to become real-life weavers in the College's Weave Studio.
Malcolm Campbell (pictured above with the nursery children and staff) decided to use his experience of working in the textile industry to write a series of educational stories to introduce young children to colour and weaving. His first book was published by The Society of Dyers and Colourists in 2014, which hosted a heat of its 2015 International Design Competition at Glasgow Clyde College, and his goal is distribute at least one free book to every primary school in the UK as he hopes that this will encourage them to reintroduce textiles to their curriculum to help inspire the next generation of workers for the industry.
He said: "I want to encourage children away from computers by getting them interested in textiles and art from a young age. My mission is to get my book into every Primary School and Library in Scotland and over 1,000 copies of it have been sponsored by different organisations so far. It's really rewarding to see how well children engage with the book so I'm really looking forward to seeing them experience what it's like to use a loom after I have read it to them."
Jacqueline Farrell, Head of Fashion, Textiles and Jewellery at Glasgow Clyde College, said: "There is now a great enthusiasm among younger generations to embrace the traditional skills involved in fashion and textiles so it's fantastic that we've been able to share this with children that are of nursery age."After listening to Malcolm's storytelling, students on our HND/BA Textiles course taught them the basics of weaving using a loom. Not only was this fun and interesting for the children but also excellent for developing colour awareness and counting skills, acting as a good teaching experience for our students."
The Children's Centre at Glasgow Clyde College's Cardonald Campus aims to provide a happy, safe, stimulating and multicultural play environment for children of students at the college. Kathleen Gallagher, Head of The Children's Centre, said: "This was a great opportunity for our children to widen their understanding of how different things come to be made."