Cardonald campus raise over £100,000 for good causes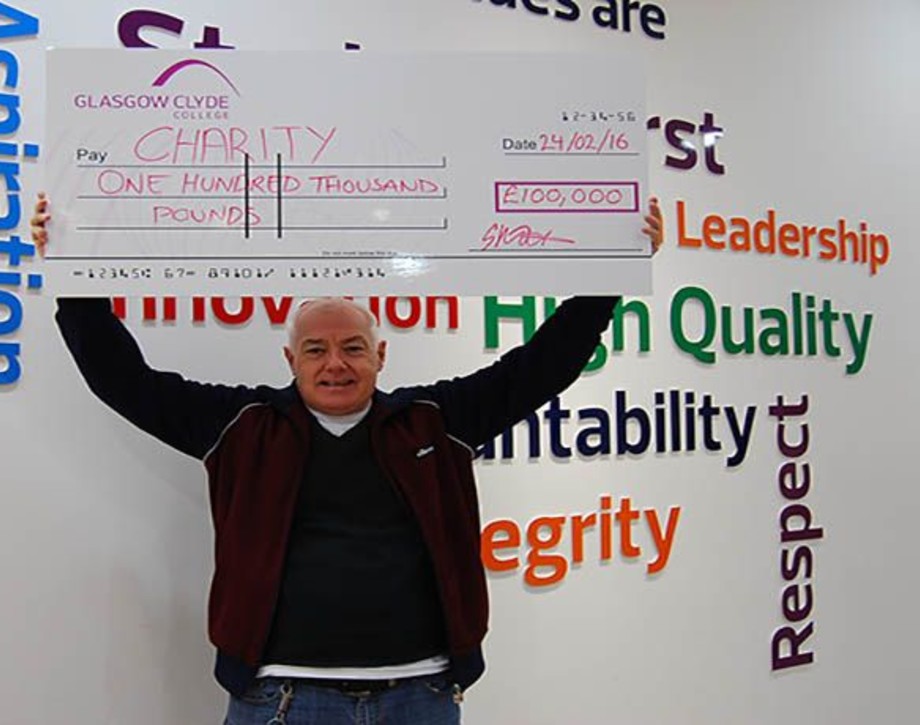 Staff and students at Cardonald Campus have raised an amazing £100,000 for charity over the last 4 years.
Charity Committee driving force, lecturer Lawrie Kennedy, took over the role leading the charity committee just over 4 years ago and he set a target to raise £100,000 in 4 years. Just before Christmas he realised that they were close to achieving this. The Christmas raffle brought in £230 and meant that the total was exceeded. This total has been raised in a number of ways over the years including charity tins, gigs, end of year raffles, 'Tash for cash' and even lost and found money. Staff are also able to join a monthly club where a sum is paid directly to the charity committee each month. The money raised in this way goes towards charities and causes which are nominated by the staff at Cardonald. Staff are then asked to vote for the one that they would like to receive a donation.
In 2015 the charity committee was able to help four causes, with £2,000 going to help a school pupil's volunteering trip to Malawi, £1,000 going to The Coming Home Centre and £500 going to 'Neil's Wheels' and a college class group volunteering in South Africa.
The total also takes into account the funds raised by class groups holding bake sales, dress up days and stalls. A special mention should go to the Childcare students who raised £2700 for Glasgow's Caring City just before Christmas.
Lawrie comments,
"I'm over the moon that we have managed to raise over £100,000 at the Cardonald Campus, as it's the people at Cardonald who have done this. I also really enjoy organising the nominated causes as it is more personal and means that funds are going to causes that are really meaningful to staff." In addition to this, staff and students also support ruck sack, toy and food bank collections each year.