Founder of Glasgow fashion label shortlisted for national award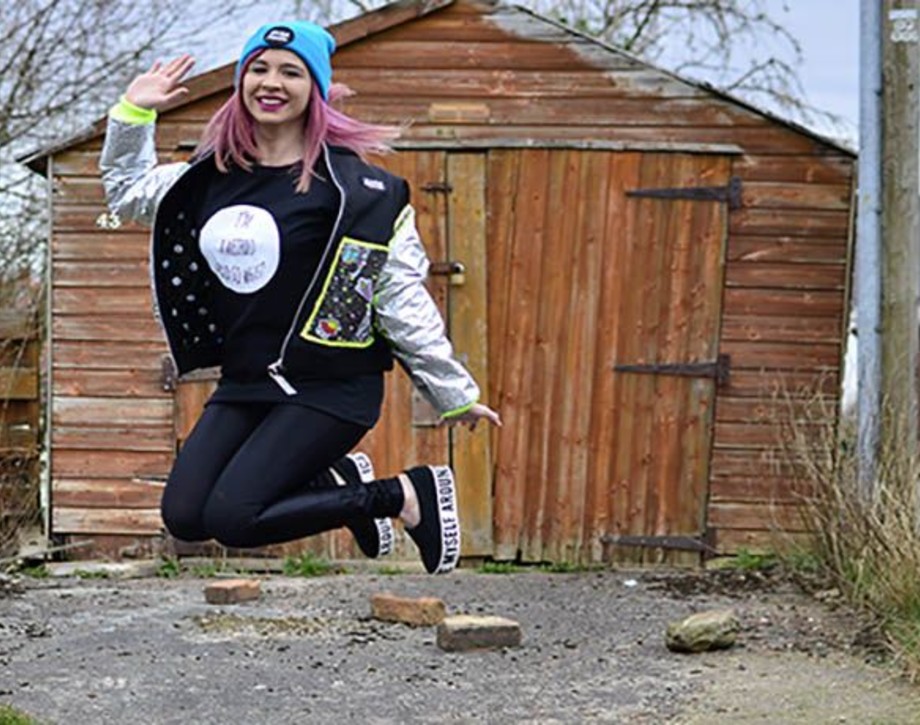 A business champion based at Glasgow Clyde College who is looking to revitalise the city's fashion scene has been shortlisted for a major national award.
Jen McDonald, a former pupil of St Ninian's High School in Clarkston, runs her Neon Ninja label at the new business incubator facilities at Glasgow Clyde College's Cardonald Campus. She was last year named as a 'champion' of the Bridge 2 Business scheme run by Young Enterprise Scotland and, in recognition of her vision and creativity, is in the running to be named 'champion of the year' at a ceremony in May.
Since founding her new label in September last year, Jen has received praise in the business community for the progress she has made. Her clothing, which she describes as "all about bright colours and bold print", is now stocked in Glasgow city centre shops.
"I didn't want to start a bog-standard t-shirt company, so I used inspiration from the 1990s and Japanese streetwear," said Jen, 28, whose business idea was born as she completed a degree in fashion at university.
"The incubator at Glasgow Clyde College's Cardonald Campus allows me to have a base and access to sewing machines and studio facilities free of charge. I have the freedom to produce samples of my ideas before they go into production and the college also runs masterclasses on finance and other aspects of business.
"Being an ambassador for Bridge 2 Business is amazing for me. I'm an average girl and was never really business-minded. It's always been the design side I'm more interested in, so, in my role as a Bridge 2 Business 'champion', the idea of people asking me questions about business was overwhelming. Being named national champion in May would be great, though, and a good way for more people to hear about my business."
Bridge 2 Business is a key programme of Young Enterprise Scotland and offers owners of new businesses first-hand opportunities to engage with appropriate entrepreneurial role models.
Brian McEwan, Bridge 2 Business programme manager, said: "Jen is among the standout up-and-coming business owners in Scotland and has benefited greatly from the business incubator at Glasgow Clyde College. She gets involved with the events that Bridge 2 Business runs in order to give herself more tools to succeed, and we will continue to support her."