Student's bridal look strikes gold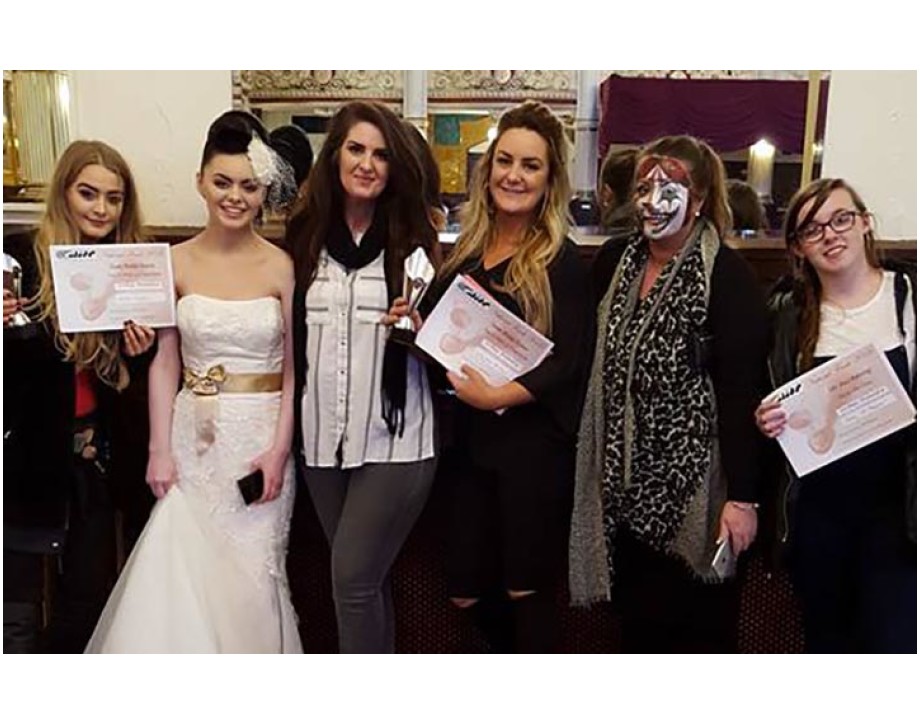 A talented team of students from Glasgow Clyde College have triumphed at one of the UK's most prestigious hair and beauty awards.
Amber Henman and Kellyanne McPhail, who both study Level 6 Hairdressing at Glasgow Clyde College, travelled to Blackpool's Winter Gardens to compete in the bridal category of the Association of Hairdressers and Therapists Awards.
The duo beat off stiff competition from 25 other competitors to bring home a gold medal after stunning the judges when they used their hair and makeup skills to transform fellow student Courtney McAllister into a stylish, blushing bride.
Amber, who is from Kilfinan, was given 45 minutes to complete Courtney's makeup. The 20-year-old explained: "We were given a strict time limit which made doing the makeup quite challenging. It was great experience, though, as you have to be able to work quickly in the hair and beauty industry.
"We decided to do a modern take on a classic bridal look as we wanted our entry to really stand out. Everybody's work was so good and the competition was really tough. I couldn't believe it when we were announced as the winners – it was the best feeling in the world!"
The aspiring makeup artist hopes that her participation in the competition will stand her in good stead for gaining employment when she completes her training. She said: "I've always been interested in hair and makeup as I love making people feel good about themselves. I really enjoy being creative and I hope that having this on my CV will help show potential employers what I can do."
Jo Malone, Hairdressing Lecturer at Glasgow Clyde College, believes that the students' success in the renowned competition will boost their confidence in their abilities. She said: "Amber and Kellyanne are both incredibly talented and take a lot of time for precision, which makes their work really stand out.
"They both put a lot of time and effort into preparing for the competition and I was delighted to see that their hard work paid off. Winning a gold medal at the Association of Hairdressers and Therapists Awards is a great stepping stone for them between training and gaining employment, as it will highlight how skilled and talented they are to potential employers."
Model Courtney, who is currently enrolled on the college's NPA Cosmetology course, which is designed to give students the opportunity to sample hairdressing, barbering, beauty and make-up artistry, added: "I really enjoyed being able to watch Amber and Kellyanne compete as it gave me an idea of the type of thing I'll hopefully be able to do in the future."
Image shows: Amber Henman,Courtney McAllister, Jo Malone,Kellyanne McPhail with 14+ face-painting gold winner Amy McPherson