Students win at Scottish Student Journalism Awards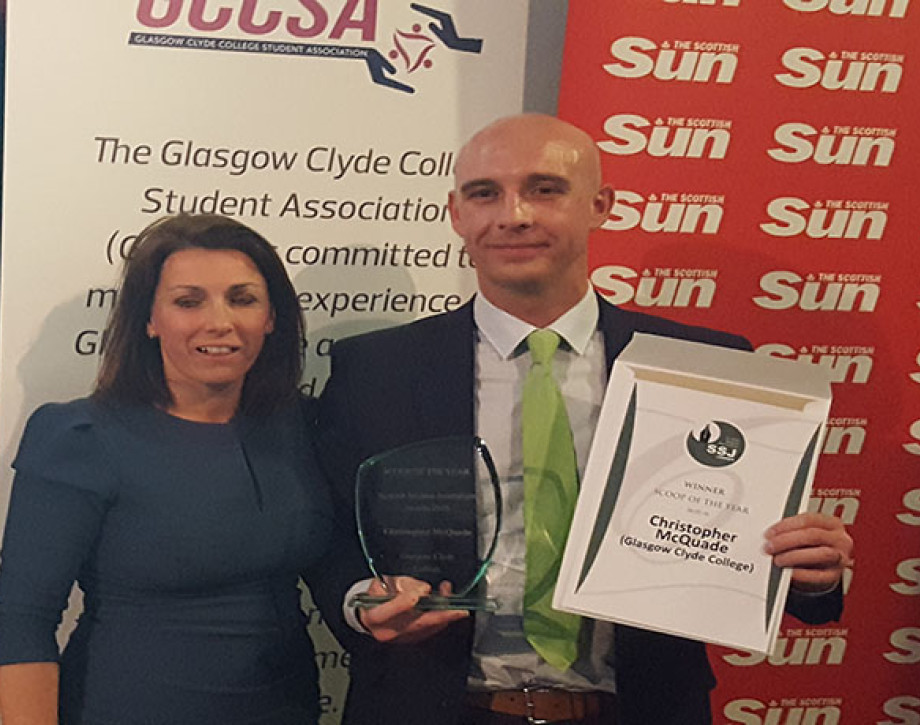 Glasgow Clyde College journalism students are celebrating after scooping six accolades at the Scottish Student Journalism Awards.
Second year HND Journalism student, Chris McQuade, won one of the most prestigious awards – Scoop of the Year – for his interview with singer Shaun Ryder.
Chris said: "I am delighted to have won Scoop of the Year, and to be recognised by industry professionals is amazing. It shows that hard work pays after all."
Derek Murdock was commended for Column of the Year while first year students Dani Gibson and Amy Maguire were commended for Arts and Entertainment and News Story respectively.
The second year students' magazine, 'Clyde Outside', was commended for Student Publication of the Year, while the student website, ran by first year students, 'On the Button', was commended for Student Website of the year.
Clyde Outside editor, Lauren Mair said, "The whole class is so proud that Clyde Outside was commended for Publication of the Year at the SSJAs because we all worked so hard on the magazine and it was great that all our hard work was acknowledged by industry experts."
Journalism and media lecturer Karen Bale said, "This is an incredible achievement for all our journalism students, they really deserve the recognition for both their hard work and talent.
"Winning Scoop of the Year is something we are especially proud of, and Chris McQuade's interview with Shaun Ryder is something even the most established journalist would struggle to secure.
"I'm delighted that both our first and second years were commended for Clyde Outside magazine and On the Button – they have worked so hard all year and go above and beyond what is expected of them."