Construction students produce accessible playground picnic table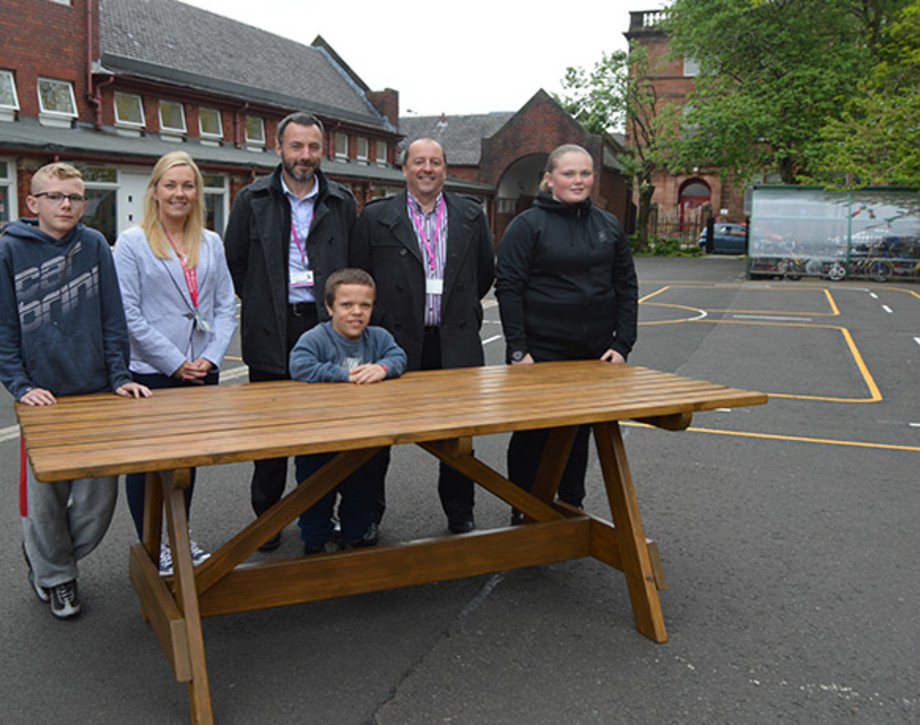 A group of caring construction students from Glasgow Clyde College have designed and built a bespoke picnic table to benefit local primary school children who use motorised wheelchairs.
The students, who are enrolled on the Glasgow City Council's EVIP (Enhanced Vocational Inclusion Programme) Construction course (based at the college), have spent weeks putting their practical joinery skills into practice by making a specially-adapted picnic table for Kelbourne Park Primary School.
Under the supervision of college lecturer Stephen Henson, the students met with staff and pupils at the school to determine specific dimensions for the custom-made picnic table before constructing it from scratch at the college's Anniesland campus.
Stephen Henson, Joinery Lecturer at Glasgow Clyde College, said: "The students were involved in every aspect of making the picnic table – from taking measurements to assembling it and making sure it was fit for purpose. They really rose to the challenge and should be very proud of what they have achieved."
The students' work on the picnic table is just one example of a number of renovations and repairs they have been heavily involved in at the school. Alongside college lecturer George Hill and EVIP Vocational Coach Fiona Duff, the group have been visiting the school on a weekly basis since last year to help improve and maintain the building and playground.
The Enhanced Vocational Inclusion Programme (EVIP) offers young people the opportunity to study vocational qualifications in a college environment as an alternative to mainstream secondary school education.
Fifteen-year-old Callum Campbell explained: "Making the picnic table was hard work but the school kids really like it so it was definitely worth it. It was a team effort and we all learnt a lot about joinery as we had to do everything from taking the measurements to cutting the wood."
The former Cleveden Secondary School pupil, who hopes to become a professional joiner or electrician after finishing his studies, added: "I've really enjoyed working at the school – we've done everything from painting classrooms to cleaning the moss from their bike shed for them. It has been a good experience for me."
George Hill, Senior Lecturer in Construction at Glasgow Clyde College, said: "Working at the school has been a great learning curve for the students. They've been able to fine-tune their manual skills whilst carrying out work to improve the appearance and functionality of classrooms, guttering and play facilities. Most of the students on the course are from the local area so it's been really rewarding for them to be able to give back to the local community."
EVIP Vocational Coach Fiona Duff added: "This group have surpassed our expectations. They have all been out on work experience here at Kelbourne Park School, whilst also gaining their English and Maths qualifications. Since enrolling on the course, they have become a team and their behaviour is much-improved. They are now young, mature adults."