Accounting student wins top financial award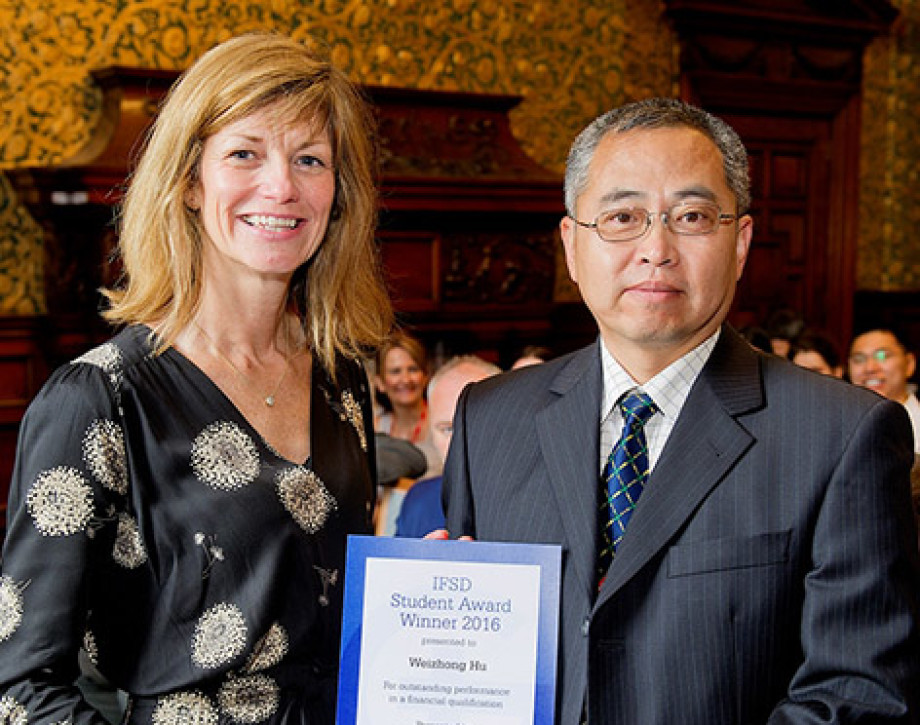 Glasgow Clyde College HND Accounting student Weizhong Hu has been recognised by Glasgow's International Financial Services District (IFSD) for achieving top marks in his final exams.
At an awards ceremony for the IFSD Glasgow Student Awards 2016, Weizhong Hu was one of seven students, representing each university and college in Glasgow, to be presented with a certificate and £250 to mark their achievements.
Weizhong Hu was nominated for the award by Glasgow Clyde College for his 'A' standard performance on the HND Accounting course. He is now looking to pursue a career in accountancy.
Originally from the Liaoning province in north east China, Weizhong Hu ran his own chemicals business and then moved to Germany, before arriving in Scotland ten years ago.
The awards programme was established by the IFSD Partnership to highlight the wealth of talented graduates emerging from Glasgow's universities and colleges, prepared for careers in financial services. All seven winners were nominated as 'outstanding achievers.'
Presenting the award to Weizhong Hu, Sharon Hamilton, Director, Financial and Business Services, Scottish Enterprise said, "Many congratulations to Weizhong Hu on his achievement. We know that the availability and quality of skills are key factors for the success of financial institutions worldwide; the IFSD Student Awards underline the exceptional talent graduating from Glasgow and the West of Scotland for the global financial services industry today and in the future."
Since its launch in 2001, the IFSD has been developed by a partnership of the public and private sectors led by Scottish Enterprise and Glasgow City Council. Over £1 billion has so far been invested to transform the previously run down area of the city centre. The District has attracted over 15,000 financial sector jobs from some of the biggest names in global finance including Morgan Stanley, JP Morgan, Barclays, BNP Paribas, HSBC, esure, Tesco Bank and Aon.
Pictured above is Weizhong Hu being presented with his 2016 IFSD Glasgow Student Award by Sharon Hamilton, Director, Financial and Business Services, Scottish Enterprise.