Celebrating our 200th Textile Modern Apprentice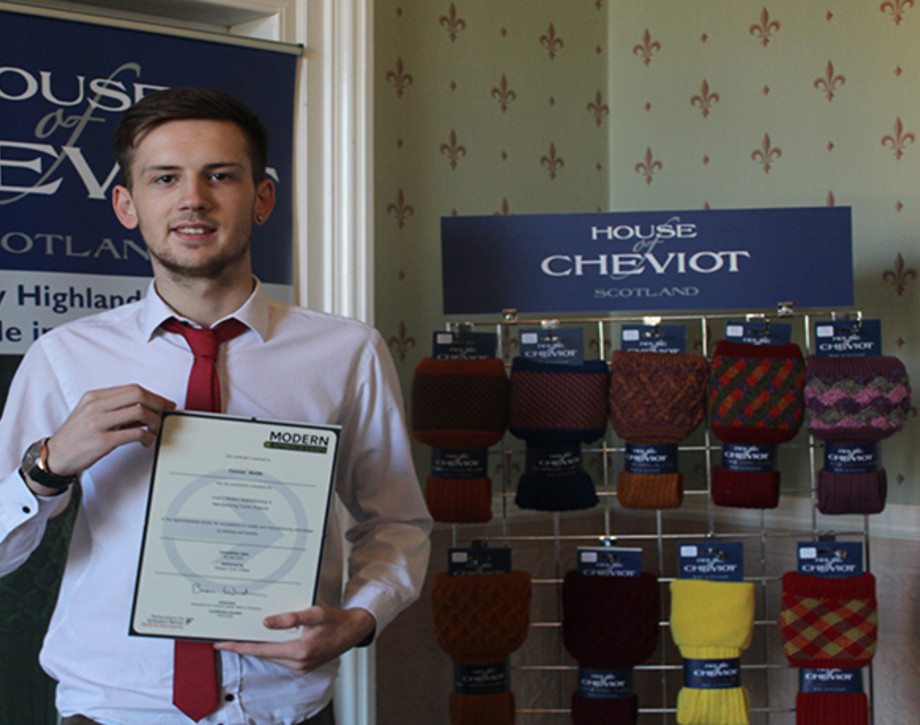 Connor Smith, from Hawick, and employed by House of Cheviot has completed the Modern Apprenticeship (MA) in Fashion and Textile Heritage, and becomes our 200th textile MA.
The textile MA programme was established five years ago to support and future proof the textile industry in Scotland. Glasgow Clyde College developed a partnership with local Hawick businesses and the Scottish Textiles and Leather Association (STLA) to establish and run the MA programme, which has been successfully rolled out in Harris, Moray, Tayside, Glasgow, Ayrshire and across the Borders.
Hawick business, House of Cheviot, manufacturer of cashmere and wool country and shooting socks and kilt hose, has been a College partner since the start of the programme and has been recognised for the support and time the business has dedicated to the programme since its inception. As a small local company the programme helps bring in new talent to future proof the business. So far, they have trained three apprentices, who have all continued their career at House of Cheviot.
Connor said, "The Modern Apprenticeship programme provided me with on the job training while completing a qualification. I was interested in working with machinery but I didn't know where to start. Now I have achieved a recognised qualification and I have a career in the textiles industry at House of Cheviot ahead of me."
The MA programme gives students hands on experience and sets out a career progression path they can set their sights on, they receive training and knowledge from the company and an industry qualification at the end of the programme. Glasgow Clyde College has MAs in roles across the textile industry in weaving, knitwear, apparel, technical textiles, dyeing and finishing and accessories.
Fiona Kennedy, Head of Skills Strategy, Textiles at Glasgow Clyde College said, "We work in partnership with employers to develop and deliver the Modern Apprentice programme. There is no doubt that young people like Connor, our 200th textile Modern Apprentice, are making a significant contribution to the future of the industry and are positive role models for the next generation of young people considering careers in this sector."
David Breckenridge, Chief Executive STLA, comments, "Our role is to bring the textile industry in Scotland together to promote the best design, innovation and quality. Apprenticeships are pivotal for organisations, bringing fresh and innovative ideas to our rapidly changing global industry. We will continue to work with Glasgow Clyde College and businesses to support the Modern Apprentice programme across Scotland."
At a recent event in the Borders Textile Tower House, House of Cheviot was recognised for its continued support for the textile MA programme. Connor Smith received his Modern Apprentice certificate and a Glasgow Clyde College certificate recognising his success as the college's 200th textile MA. He was also presented with a Kindle Fire from the college.