Lennon's Day Raises Over £1,300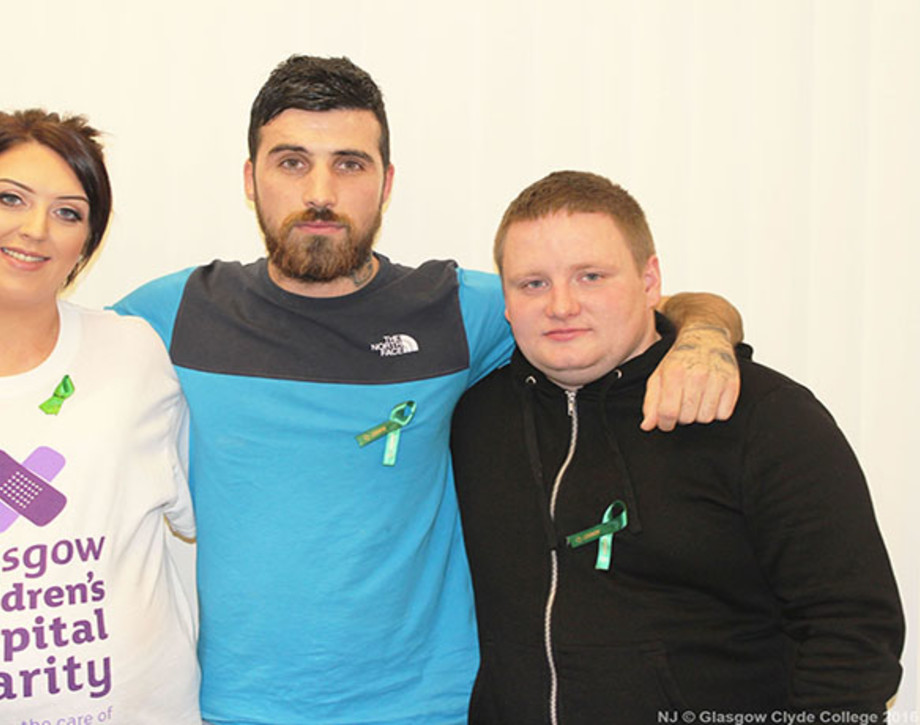 A group of journalism and media students at Glasgow Clyde College have raised over £1,300 following their recent Lennon's Day fundraising event, in memory of five year-old Lennon Toland.
The event raised money through a variety of activities, including bric-a-brac stalls, a raffle and a beat the goalie competition. Funds will be donated to Glasgow Children's Hospital Charity, for its Cancer and Neurology departments.
The day was held in memory of Lennon Toland who was tragically knocked down and killed by a car in the east of Glasgow in September.
Lennon's family all attended the event and spent time being comfortable by football stars Neil Lennon, Chris Sutton and Frank McAvennie, who attended the event.
First year HND Practical Journalism student Stephen McCabe, who came up with the original idea for the fundraising event, enlisted the help of his fellow journalism, media and photography students to see the day come to life and ensure it was a success.
Using the skills they have been studying and developing, students worked directly with print and broadcast media, contacting journalists and inviting them to cover the event, drafted and issued press releases, created and executed a social media plan and captured the day on video.
Held at Glasgow Clyde College's Cardonald Campus, students covered the cost of the event by securing sponsorship from Dominos and several local businesses donated raffle prizes, including Morrisons and Celtic FC.
The event was covered by national and regional print and broadcast press, including STV Glasgow, The Scottish Sun, The Daily Record and The Evening Times.
Stephen worked with fellow student John Glover to produce articles which were published in the Daily Record and on the Student Record (Glasgow Clyde College's student platform houses within the Daily Record website) which were shared 2,500 and 1,000 times respectively.
Stephen, from Glasgow, said: "Lennon's family are close family friends, when I first heard the news I couldn't believe it. After the funeral, I wanted to try and help the family in some way. I knew Lennon was a big Celtic fan and football was his thing, I thought if I could organise a fundraiser for Lennon at the college then it should be hosted by either old or current Celtic players, just like Lennon would've wanted.
"I spoke to my lecturer about it and took it from there. With the help of the PR students we pulled together an outstanding day which managed to not only raise money for a fantastic cause, but also helped to put a bit of a smile back on the family's face. It was a fantastic experience, but an emotional one at the same time. I'm glad it all came together in the end and I look forward to doing it again next year."
Karen Bale, Glasgow Clyde College journalism and media lecturer, said: "Stephen, Jade and Hayley and the rest of the team involved in the Lennon's day fundraiser, should be really proud of what they have achieved and the amount they have raised."