Journalism Students Shortlisted for UK Award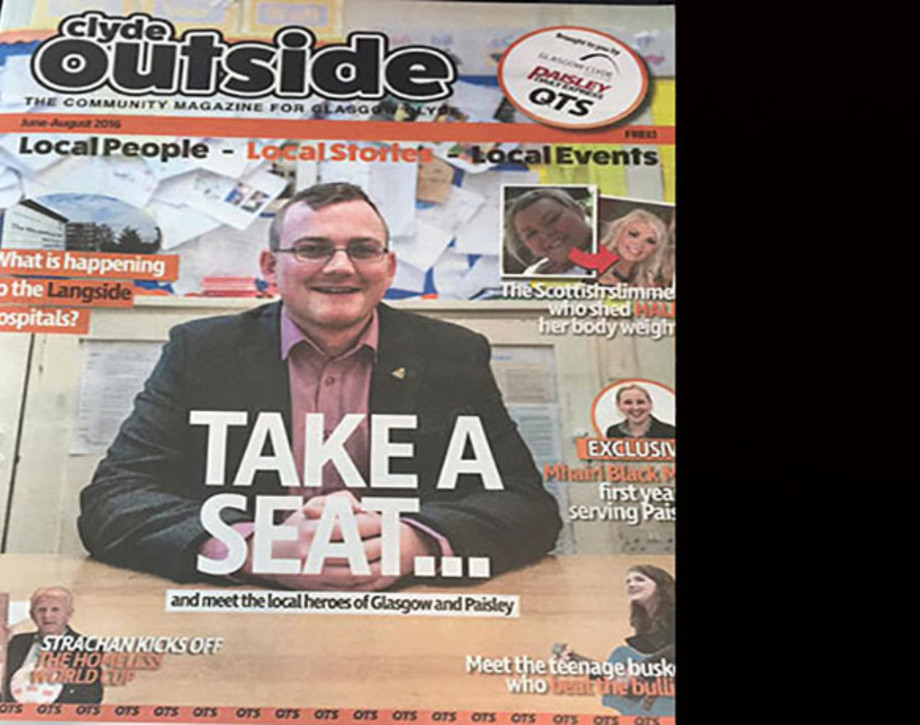 Glasgow Clyde College journalism students have been shortlisted for 'Best Student Project' at this year's National Council for the Training of Journalists (NCTJ) Awards for their innovative Clyde Outside magazine project.
Clyde Outside was created and developed by Glasgow Clyde College's second year HND Practical Journalism students as part of their HND graded unit.
A team of 14 students produced all content and editorial for the 40-page magazine and enlisted the help of fellow HND media students to secure advertising and assist with promotional and social media activity.
Lauren Mair, student editor of Clyde Outside 2016, said: "We are over the moon Clyde Outside has been nominated for Best Student Project at the NCJT Awards for Excellence. Everyone involved from initial concept, design, content generation, editorial writing, proofing, artwork and advertising played a key role in the production of Clyde Outside. It was an amazing project to be involved with."
The ground breaking project was delivered in partnership with Media Scotland, owners of the Daily Record and Sunday Mail, and sponsored by leading railway contractor QTS.
The students were responsible for creating and producing the magazine, while Media Scotland gave them a high-profile platform – by allowing the students to print 8,000 copies, which were inserted within a June edition of the Paisley Daily Express.
Media Scotland also published several of the students' stories on the Daily Record website.
Lauren continues: "Getting the chance to work with the team at Media Scotland was a great learning experience. We got to really understand and appreciate what it is like to produce content within a media environment. That's what makes Glasgow Clyde College really stand out - its relationships with the media and communications industry and the opportunities it brings to students."
Glasgow Clyde College is the only Scottish centre and college to be nominated at this year's NCTJ awards, which received a record number of entries.
Karen Bale, Glasgow Clyde College journalism lecturer, said: "This is a great achievement and everyone at Glasgow Clyde College is immensely proud of the team involved with the Clyde Outside project.
"We work in partnership with many organisations to offer our students a real experience of what it's like to work in their desired industry. Our partnership with Media Scotland demonstrates how student projects can be developed and grow with their input and support."
Glasgow Clyde College is renowned for its partnership work with businesses and organisations across the industries it teaches in, providing students with the essential skills and experience for future careers or continued education.
Allan Rennie, managing director for Media Scotland, said: "Clyde Outside fully deserves its nomination for 'Best Student Project'. The project was innovative, creative and above all demonstrated the students' abilities to produce a high-quality product.
"By working with Glasgow Clyde College we are helping to motivate future generations and discover aspiring journalists. We've actually taken on two of last year's journalism students involved in the Clyde Outside project demonstrating the power of partnership working for students, colleges, recruiters and businesses."
Gregg McEwan, marketing manager at QTS, said: "It's been a great honour to be part of the Clyde Outside project. As one of the largest sports sponsors, we understand how important it is to build relationships with our partners and journalists. The students did a great job of analysing our partnerships and each aimed to look at different partnerships in their own way. We wish the students all the best for award night."
NCTJ Awards for Excellence recognise and reward the best journalism students and trainees. With quality training at the heart of the NCTJ, the awards highlight the achievements of individuals with promising journalism careers ahead of them. The awards will be held at the Royal Navy Submarine Museum, Gosport on 24th November.