Textile Student Wins Knitwear Competition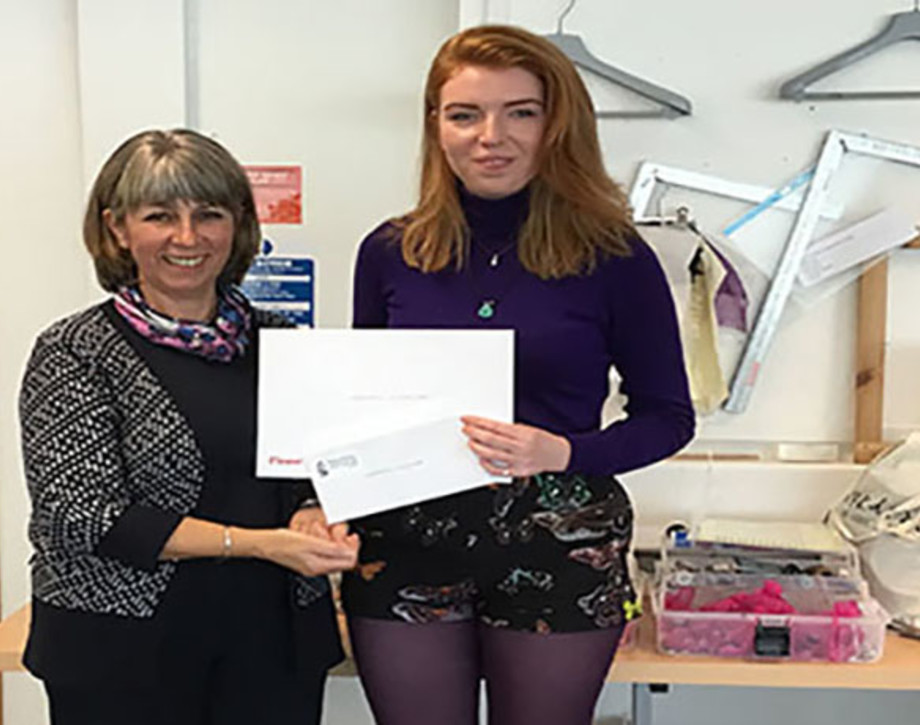 A textile student from Glasgow Clyde College has won a potential work placement at one of the oldest knitwear factories in Scotland following a unique partnership between the college and Balmoral Knitwear.
Glasgow Clyde College and Balmoral Knitwear joined forces to offer the college's first year HND Fashion Textiles students the opportunity to create their own knitwear designs and secure a work placement at the knitwear factory if their design goes into production.
Students were asked to design concept ideas for a folk knit pattern and digital floral print. Over 50 students took part in the project, demonstrating their originality and creativity. The students were given a tight brief which reflected the practical constraints of producing a viable garment.
Balmoral Knitwear were tasked with selecting an overall winner and two runners up from all entries. Winner, Stephanie Alexander impressed the judging panel with both of her concept designs and Kristen Brown and Imogen Burnell were named runners up. The designs will be shown to Balmoral Knitwear's clients and considered for production in 2017.
Stephanie Alexander, HND Fashion Textiles student at Glasgow Clyde College, said: "It was amazing to be part of the Balmoral Knitwear project, especially in its first year. It pushed me to think outside the box, but reflect the Balmoral Knitwear brand. This has been a great opportunity for all of us on the course to get involved with and to get to work with such a heritage brand."
"I can't wait to get started on my work placement, learn more about the industry and find out more about the production side. I'll keep my fingers crossed the Balmoral Knitwear clientele like my design and it goes into production."
Jacqueline Farrell, Head of Fashion, Textiles and Design at Glasgow Clyde College, said: "This was a challenging and exciting opportunity for the students to be involved with. We were all amazed at the unique interpretations of the brief. I hope this project has inspired them to follow a career in the fashion textiles industry."
Glasgow Clyde College is renowned for its partnership work with businesses and organisations across the industries it teaches in, providing students with the essential skills and experience for future careers or continued education.
Jacqueline continues: "Glasgow Clyde College has worked extensively with industry partners for a number of years to develop live projects that enhance the student experience and ensure they are well prepared for the demands of the industry. Our partnership with Balmoral Knitwear further enhances the opportunities available to the students and I look forward to seeing it grow and develop."
Julie Mackie, Retail Marketing Manager at Balmoral Knitwear, said: "We were very impressed by the quality of work which was produced for us. It's great to see so many different ideas and talent coming through. We are looking forward to welcoming Stephanie, Kristen and Imogen to the factory to see what it's like on the shop floor."
Picture shows Julie Mackie with Stephanie Alexander