Art Pushing Boundaries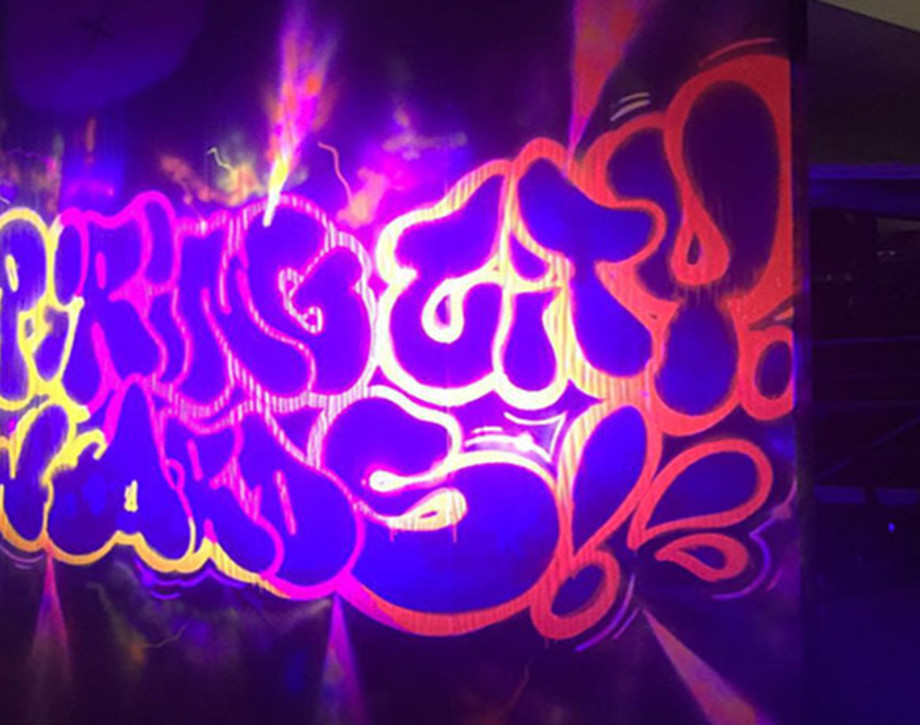 From a young age, Jefferson Ferris was captivated by graffiti art and he would watch films that were set in New York, just in case he could catch sight of any graffiti in the set. He would then pause the recording, study it and draw his own interpretation of it. An art teacher at school helped him to explore the history and the form of graffiti and he realised that he loved the process of experimenting with different methods of creating font and text.
Jefferson was working in retail for ten years but never lost his love of graffiti. While he was working he was still producing art in his spare time and as it began to gain momentum, he decided that he wanted to study a course that would help him to move forward as an artist. Ultimately he wants to make graffiti more acceptable as an art form rather than being seen as a 'scene'.
Currently studying HND Contemporary Art Practice at Glasgow Clyde College's Anniesland Campus, he hopes to progress to art school when he completes his course. Studying on the course has let him explore other mediums and has awakened an interest in screen printing. His lecturers have helped him to refine the artistic routes he wants to follow, put him in touch with Rosalind Lawless, a renowned Scottish artist who specialises in screen printing.
"Studying the HND as a contemporary artist I feel I have learned new avenues in which I have changed the concept of my art, one of these being screen printing working alongside Rosalind Lawless. I have found similarities in the process of my painting methods in the idea of layers and application of colours. I want to focus on this process specifically in the future to focus on prints and fashion. In my studies I have learned to combine different areas of learning to suit my style. Apart from being a very confident artist in an audience environment I am very passionate about my art-form and love speaking of it and changing stigmas about it.
Things that hold my attention are art forms and individuals who are rooted in or who paint with a cultural background; a focus, a drive with a feel of anti-establishment."
Jefferson has continued to produce art outside of college and interest in his style of work has been steadily growing, leading to various commissioned pieces.
"I am currently a working artist doing graffiti and illustration based work throughout the city. Most of my work is for events such as the recent "inspiring city awards" in Glasgow and other award based ceremonies; pushing boundaries with text font and lights to create something captivating for audiences. Because of my specified methods of paint I have no boundaries of what I am capable of, from painting limousines to shop fronts for local businesses."
"Apart from my current success as a commissioned graffiti artist I don't feel as if I have achieved my full potential in gaining knowledge to push things even further. Art is going to be in my life as long as I can push boundaries."
Jefferson has received commissions to produce art for various large events such as the Inspiring City Awards, through events company Cameron Presentations.
Tony Brown, from Cameron Presentations comments, 'We work with many clients who are looking for really dynamic displays at their events. We were working with the Prince and Princess of Wales Hospice on their 'Girls Uptown' event and they were looking for a street 'look'. I had heard about Jefferson's work and thought it would be perfect for the style they wanted. It was the first time we had worked with an artist directly creating a specific piece of art for an event, rather than having something printed, but Jefferson had great ideas for how it would work, using fluorescent paint to make it stand out. It worked really well and the clients were really pleased with the result. We've since asked Jefferson to create pieces for several other events and they've all made an impact."
You can view a short film of Jefferson at work here. here.