New MOU signed between University of Glasgow and Glasgow Clyde College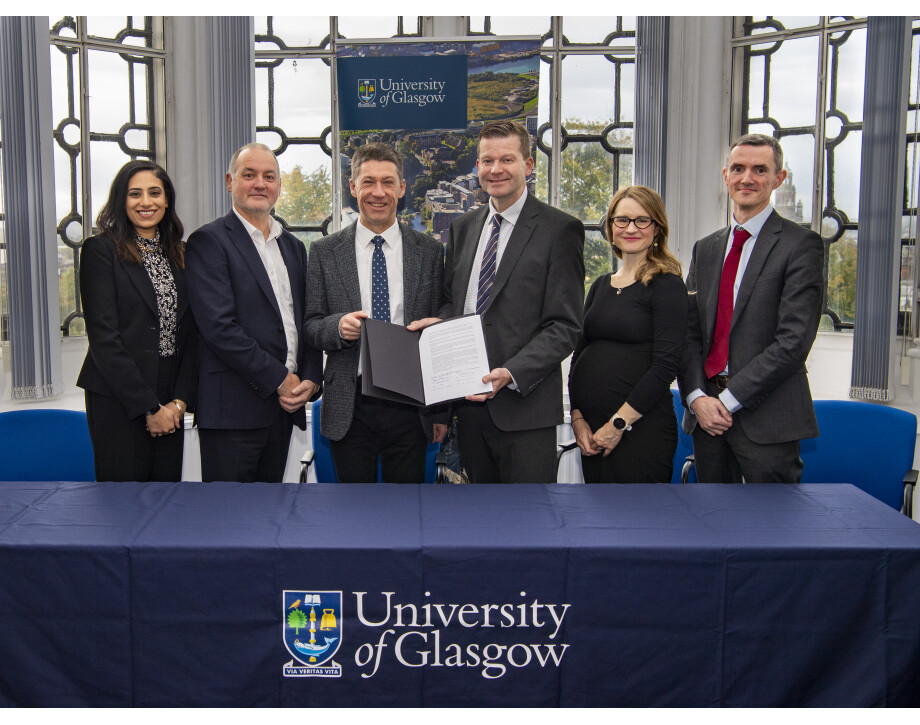 The University of Glasgow and Glasgow Clyde College have signed a Memorandum of Understanding (MoU) in a bid to work closer on ambitious projects to boost productivity, growth and inclusion across the region.
The new agreement will also see increased collaboration between the two institutions to identify opportunities to support the development of Glasgow City Region's skills pipeline.
Underpinning the MoU is a commitment to improve and widen access to opportunities presented by education and job training, which will build on the success of the University's Widening Participation programmes and the College's extensive experience of partnering with employers and other stakeholders to support its students.
Two key objectives of the MOU include considering how the University of Glasgow, as one of the region's largest employers, can develop placement and career development opportunities for Glasgow Clyde College students across its wide range of commercial and other service areas. Also, how the partnership can support plans for the Glasgow Riverside Innovation District (GRID), a citywide partnership led by the University, Glasgow City Council and Scottish Enterprise.
GRID is located within a 700-acre site that spans both banks of the River Clyde and incorporates some of Glasgow's major anchor institutions and innovation leaders across a range of sectors, including education, health and culture. GRID aims to build on and develop new strengths for Glasgow City Region in high-growth, high-value sectors through a partnership approach between academia, industry, government and local communities. The Scottish Government recently announced GRID as Scotland's first whole-system testbed, and by drawing on the University's research strengths, the district will deliver high impact innovation and test it in the real world.
Fostering the region's skills pipeline is crucial to the partners' ambitions for GRID and aims to ensure that residents are well-equipped to take up opportunities in high-demand sectors, as well as supporting the physical development of the district itself. This partnership will assist in that goal.
Uzma Khan, Vice Principal of Economic Development and Innovation at the University of Glasgow, said: "We are delighted to be collaborating with Glasgow Clyde College and working together to support the region's skills pipeline and economic development. From the ambitious plans for GRID, to the region's selection as one of three Levelling Up Innovation Accelerator pilots, and the recent announcement of its designation as an Investment Zone, this is a hugely exciting time for Glasgow.
"Capitalising on these opportunities and, crucially, ensuring that the benefits they bring are felt across the city's communities is a shared ambition for the University and Glasgow Clyde College and will be at the core of the partnership opportunities we take forward together".
From its three campuses across the city, Glasgow Clyde College offers more than 500 full-time and part-time courses across a range of subject areas and has excellent links with employers, ensuring that its students are well-prepared to succeed in their chosen fields.
Jon Vincent, Principal and Chief Executive of Glasgow Clyde College, said: "Glasgow Clyde College is delighted to commit to this Memorandum of Understanding with the University of Glasgow to foster closer relationships between our organisations for the benefit of our student bodies, local communities and the regional economy.
"We are excited by the potential impact that our combined expertise, resources and shared aspirations will have on the City and wider region. We welcome the opportunity to contribute to the development of Glasgow Riverside Innovation District and look forward to the significant impact that it is expected to have in our locality and on its economy."
Image shows L-R Uzma Khan, Vice Principal for Economic Development and Deputy Chief Operating Officer (University of Glasgow); Duncan McDougall, Assistant Principal: International and Business Development (Glasgow Clyde College); David Duncan Deputy Vice Chancellor - Operations and Chief Operation Officer and University Secretary (University of Glasgow); Jon Vincent, Principal and Chief Executive (Glasgow Clyde College); Rebecca Kent, Executive Officer to the Vice Principal for Economic Development and Innovation and Deputy Chief Operating Officer (University of Glasgow) and Mike King, Director of Economic Development (University of Glasgow)