College's Gift Gang secures listing in West End store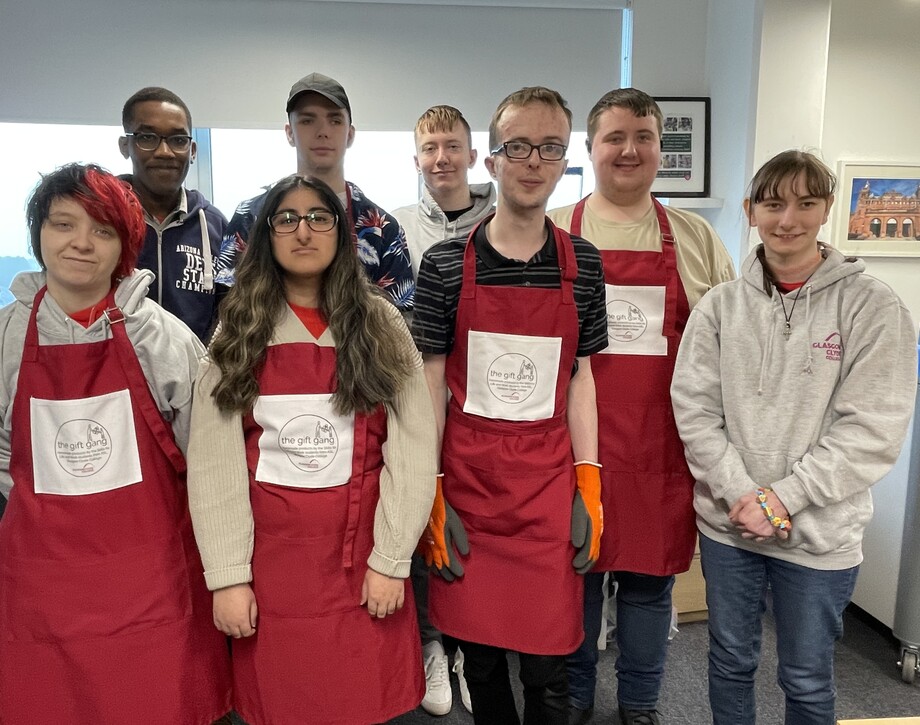 A group of nine students from Glasgow Clyde College are celebrating their entrepreneurship after securing a listing for their hand-made gifts in a West End boutique.
The Gift Gang was established in 2018 and enables students on the Skills for Life and Work course to create a line of gifting items, including tote bags, mugs and coasters and magnets, all featuring photography of iconic Glasgow sights.
The gang source the materials before crafting the items using a heat press in their college workshop. Students on the course have previously sold their products at Christmas fairs and markets, and have had a pop-up stall in Silverburn shopping centre and Royal Exchange Square.
Following one of their pop-ups, Janet & John Scotland, owners of the eponymous store in De Courcy's Arcade just off Byres Road, spotted the products and offered the students space in their boutique, which specialises in artwork and crafts from local designers.
Now, the Gift Gang's products are available to purchase year-round, and have proven to be a hit with both tourists and locals alike.
Glasgow Clyde College's Skills for Life and Work course aims to help young people with learning difficulties and additional support needs get ready for employment or further study, teaching them the skills and tools required to secure and maintain a job through group and project-based work. Skills including communication, timekeeping and customer service are focussed on, with real-life examples used to prepare them for life outside of college.
Elaine McGregor, lecturer at Glasgow Clyde College, said: "I'm so proud of our students - to see their determination and hard work showcased in a Glasgow boutique is a fantastic achievement. We started Gift Gang back in 2018 as a way of learning about entrepreneurship and running your own business. We never expected it to do as well as it has, and to have the students' work in Janet and John's beautiful shop is amazing.
"Our Skills for Life and Work classes centre around giving people the tools to understand what is required in the workplace, and feel comfortable when they secure that job after college. Our Gift Gang students have really thrown themselves into this class, gaining valuable experience that I'm sure will go a long way."
John Turner, at Janet & John, said: ""We first met the Gift Gang Team at a Christmas Fayre at GCC's Anniesland campus and loved their enthusiasm for their work, as well as the quality of the products they had for sale.
It was therefore an easy decision for us to invite them to join the more than 60 other Scottish artists and crafters whose work we sell at Janet & John."