Fashion Technology students impress industry experts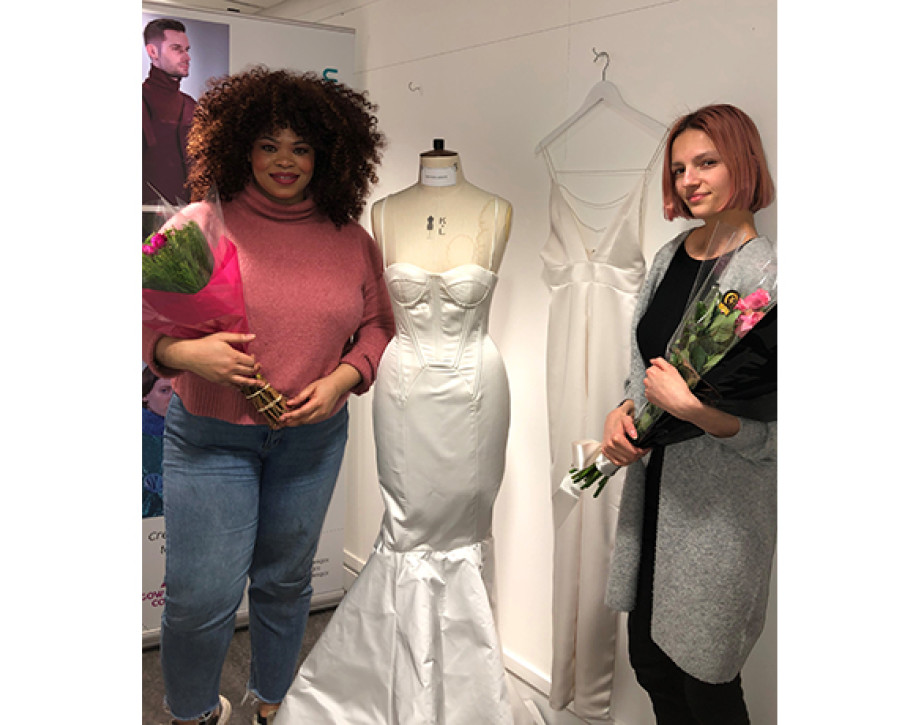 HND Fashion Technology students at Glasgow Clyde College have wowed judges with their bridal designs, after working on a live brief for a Glasgow-based bridal boutique.
As part of the bridal and evening wear unit, HND students worked to design an ensemble for the Anne Priscilla Signature Bride collection, focussing on clean lines and cuts.
Students presented their final designs to judges from Anne Priscilla Bridal and Scottish Wedding Directory, in the hopes of securing a week long internship at both the magazine and boutique.
Karen Madden from Anne Priscilla bridal and Stephanie Telfer from Scottish Wedding Directory judged the 23 submissions and were so impressed with the high calibre of the designs that two students, Oksana Makowska and Esther Akinte were awarded joint first place.
Oksana Makowska, 19 and originally from Poland, designed a stunning straight leg jumpsuit, embellished with pearl straps. Oksana said: "I took inspiration from the signature designs from Anne Priscilla Bridal, and I am so proud of my final design. Working on a live brief, knowing the client will see your creation at the end of the project is a brilliant motivator. I'm excited to spend time with the team at Anne Priscilla Bridal and Scottish Wedding Directory."
Esther Akinte, 26 from London, relocated to Glasgow specifically to study at the college, as it is the only Scottish Institute to deliver HND in Fashion Technology. Esther was particularly interested in the bridal unit, and her winning design featured panels cut and carefully constructed in duchess satin. Esther plans to start her own bespoke bridal and prom dress business, and said: "The course at Glasgow Clyde College has exceeded all of my expectations, and being exposed to opportunities like interning with Anne Priscilla Bridal allows me to gain experience in the sector and hone my craft. I'm so honoured to have won alongside Oksana, and I'm looking forward to learning more from the experts!"
Image shows L-R Esther and Oksana with their winning designs.